Napoleonic Archives 9 – The Journals of Captain Henry Oglander, 43rd & 47th Foot
Published by Ken Trotman Books October 2022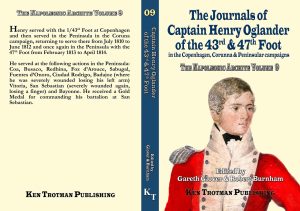 Henry Oglander was born circa 1790 into the Oglander family of Nunwell, Brading in the Isle of Wight. Henry Oglander joined the 43rd Foot as an Ensign on 28 August 1806 and  was promoted to Lieutenant on 8 September 1809. He was promoted to a Captain in the 47th (Lancashire) Foot on 2 April 1812 and became a Brevet Major with the 47th on 14 October 1813. He became a confirmed Major in the 1st Garrison Battalion in October 1814, then became a Major in the 40th Foot in March 1815, but did not serve at Waterloo. He became a Lieutenant Colonel in De Watteville's Regiment in December 1815, transferring in the same rank to the 26th Foot in October 1817. He became a Brevet Colonel in January 1837. He eventually died at sea on 23 June 1840, he was buried on Buffalo Island, Tinghae, Chusan, China.
Henry served with the 1st Battalion 43rd Foot at Copenhagen and then served in the Peninsula in the Coruna campaign and then returned to serve there from July 1810 to June 1812 and then returned to the Peninsula with the 47th Foot from February 1813 to April 1814. He served at the following actions in the Peninsula: Coa, Busaco, Redhina, Foz d'Arouce, Sabugal, Fuentes d'Onoro, Ciudad Rodrigo, Badajoz (where he was severely wounded losing his left arm and receiving a pension of £300 per annum) Vitoria, San Sebastian (severely wounded again, losing a finger and gaining a further pension of £150 per annum) and Bayonne. He received a Gold Medal for commanding his battalion at San Sebastian.
I discovered a photocopy of Henry Oglander's 1810 journal in the Archives of the Museum of the Oxfordshire Soldier (Reference SOFO 2084), being a copy of the original held in the Bodleian Library at Oxford, however it was mislabelled as by Edward Charles Cooke of the 43rd Foot. Having realised that this was by Oglander, I began a correspondence with Nicholas Haynes, who so tragically died recently. Nick had identified that a further set of Oglander's journals had been sold recently by a famous London auction house, but was unaware where they had gone. Following a bit of detective work, I discovered that they had been purchased by the Isle of Wight County Record Office. After a lengthy correspondence, Richard Smout, Heritage Service Manager, kindly arranged to send me copies of the journals they possess within the collection (Reference OG). Between the two sets we found that we had almost a full collection, stretching from Copenhagen in 1807 until the end of the Peninsular war in 1814. Unfortunately the journal for early 1811 covering the final stages of the operations to drive Massena's troops out of Portugal is missing.
Henry Oglander's memoirs are fresh and honest (he is very critical of his commander Robert Craufurd), even forthright in his views and are not tainted by later revision and his version of many events, particularly at the Coa and Arruda are very revealing. His journal regarding the siege of San Sebastian is also of exceptional use.
Because of the large size of the book already, some minor pruning was necessary. At times, Oglander wrote at great length on the latest news from both the East coast of Spain and Napoleon's campaign in Russia, both of which he had no personal knowledge of. These reports are simply voluminous extracts from contemporary newspapers and add little if anything to our knowledge of these events and he regularly noted later that the articles were proven to be factually incorrect, especially regarding news of the Spanish armies. It has been required to remove all of this 'hearsay', which amounted to another 40,000 words. The book still consists of no less than 140,000 words and is in fact better and more cogent for the removal of this material. I must as also thank my partner in crime, Robert Burnham, who helped immensely with the transcribing of all of this material, much of which has provided crucial new evidence for his superb history of the Light Division in the Peninsular, the second volume (1811) will appear in 2023.