The Walcheren Campaign
This misguided and botched campaign of 1809 was probably the most ignominious campaign fought by the British army in the whole of the Napoleonic wars; and given their generally shambolic approach to the war before the Duke of Wellington took command, really is saying something!
Not only that, its legacy lingered on for years. Thousands of troops who survived, returned with the Walcheren fever which seems to have plagued them throughout the rest of their lives; often breaking out in fresh attacks of extreme fever, thus debilitating them as effective soldiers for long periods. This was to become a serious concern to Wellington in later years.


British troops in Middleburgh
Titles in the Gareth Glover Collection that deal with the Walcheren Campaign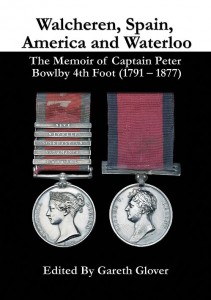 Walcheren, Spain, America & Waterloo, memoir of Captain Peter Bowlby 4th Foot 1791-1877
The Walcheren Diary of Lieutenant John Garbutt,84th Regiment of Foot,1809
The Expedition to Walcheren 1809. By 2nd Captain Henry Light Royal Horse Artillery.
The Diary of Ensign William Gavin 71st Foot 1806-15
My Military Career. By Lieutenant George Bourne 85th Foot 1804-18.
A Hellish Business. The Letters of Captain Charles Kinloch 52nd Light Infantry 1806-16
The Diary of a Veteran. The Diary of Sergeant Peter Facey, 28th (North Gloucester) Regiment of Foot 1803-19.
The salient points of this expedition are:
The army was commanded by the Earl of Chatham whilst the Royal Navy was commanded by Sir Richard Strachan.
As a first move, the British seized the swampy island of Walcheren at the mouth of River Scheldt as well as South Beveland island.
The British troops soon began to suffer from a form of malaria; within a month of seizing the island, they had over 8,000 fever cases. The medical provisions for the expedition proved inadequate despite reports that an occupying French force had lost 80% of its numbers a few years earlier, also due to disease.
The French forces were commanded by Marshal Bernadotte, who had just been stripped of his command after disobeying orders at Wagram. He led the French forces competently.
Although the British captured Flushing and surrounding towns on 15 August, Bernadotte had already ordered the French fleet to Antwerp and heavily reinforced the city.
With the main objective for the British out of reach, the expedition was called off in early September. Around 12,000 troops stayed on Walcheren, but by October only 5,500 remained fit for duty.
In all, the British government spent almost £8 million on the campaign. Along with the 4,000 men that had died during the campaign, almost 12,000 were still ill by February 1810 and many others remained permanently weakened.
Those sent to the Peninsular War to join Wellingtons army caused a permanent doubling of the sick lists there.