The Egyptian Campaign 1799-1801
Titles in the Gareth Glover Collection that deal with the Egyptian Campaign
Letters from Egypt & Spain. By Lieutenant Colonel Charles Morland 12th then 9th Light Dragoons
The Military Adventures of Private Samuel Wray 61st Foot 1796-1815    
Paymaster John Harley 54th & 47th Foot  
Sergeant David Robertson 92nd Foot
The Egyptian campaign is one that receives little attention, but in fact has many fascinating aspects to it and the few memoirs which deal with it are always something special. The hardships endured by the troops of all nations in that harsh, unforgiving climate are astounding.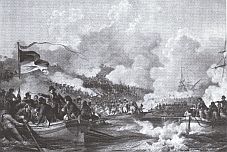 British troops landing in Egypt
It is only intended to here to give a brief overview of the campaign in bullet point form.
1798
12 April 1798 Napoleon Bonaparte appointed to command The Army of the Orient

19 May 1798 Napoleons army sails from Toulon for Egypt

10 June 1798 Malta taken by Napoleon

1 July 1798 Army of the Orient lands in Egypt

2 July 1798 French army storms Alexandria

21 July 1798 Battle of the Pyramids

1 August Battle of the Nile (Nelson destroys French Fleet)

2 September Sultan of Ottoman Empire declares war on France
1799
8 February 1799 Siege of El Arish commenced (taken 19 Feb)

3 March Assault on Jaffa (stormed on 7 March)

19 March Siege of Acre (Napoleon foiled by Sir Sidney Smith and sailors of Royal Navy)

16 April Battle of Mount Tabor

20 May French army retreat from Syria to Egypt

14 June Napoleon arrives at Cairo again

25 July Battle of Aboukir

23 August Napoleon slips away to France leaving army
1800
28 January Convention of El Arish

20 March Battle of Heliopolis

14 June General Kleber assasinated

15 June Convention of Alessandria

5 September British capture Malta
1801
8 March 1801 British force under Sir Ralph Abercromby land in Aboukir Bay

20 March Battle of Alexandria

31 August French army capitulated and returned to France on British ships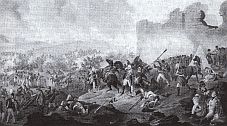 Battle of Alexandria 1801