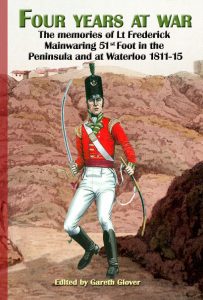 Published by Ken Trotman publishing April 2019
These memories of service were initially published anonymously as 'Four years of a soldier's life, by a field officer' in the 'United Service Journal and Naval and Military Magazine' in two instalments in August and October 1844. With some investigative work, it soon became obvious that the anonymous officer had joined an unnamed light infantry regiment as an ensign in 1810, one of the lieutenant colonel's being an uncle. He and his regiment soon sailed for the peninsular in February 1811 and by following events in his memoir, it becomes very obvious that he was with the 51st (2nd York West Riding) Regiment of Foot. He served in the peninsula for three full years until returning to Britain in early 1814 whilst escorting French prisoners. During those years he saw action at Fuentes d'Onoro, the siege of Badajoz, Salamanca, the siege of Burgos, San Marcial, Vitoria, the Pyrenees and the Nivelle, he also then saw action at Waterloo. He survived the entire lot without suffering a wound.
With all of this information, it was possible to firmly identify the anonymous officer as Frederick Jennet Mainwaring, who was born in Shepperton, Middlesex on 15 September 1796[1] to Edward and Elizabeth Mainwaring. He joined the 45th Foot as an ensign (vice Marsh) on 5 April 1810, but swiftly exchanged to the 51st Foot still as an ensign on 15 November 1810 (vice Geale), his uncle Lieutenant Colonel John Mainwaring having undoubtedly helped this move[2]. Although he does not mention it, Frederick became a lieutenant on 15 April 1813 (vice Ross).
Frederick Mainwaring later became a captain in the 51st Foot on 4 December 1828 (vice Woodward, deceased) and he then became a Major by purchase (vice Elliott) on 26 June 1838 and finally a lieutenant colonel without purchase (unattached) on 4 September 1849 although he later joined the 59th Foot.
Frederick married Catherine Popham (daughter of Colonel Popham) on 19 October 1826 at St Mary & St Joseph in Beverley, Yorkshire. They had four children, Catherine, born in Portsmouth on 7 May 1829, Julie Mary born at Portsmouth on 23 March 1833, John Popham born at Hobarton on 17 November 1841 and Emily Hedley born at Van Diemen's land [Tasmania] on 7 May 1844. He died on 25 September 1858 at St Helier's.
His memories are not from a journal and were written many years after the events described, but they are still of great value because of the intimate portrait he gives of a young subaltern's life in the peninsular. The 51st Foot has two previous writers of memoirs to its name, those of Lieutenant Colonel Samuel Rice and the inimitable letters of Private Wheeler, this new memoir fills the space between these two extremes of rank and brings a different view of their proceedings. It is an interesting read.
[1] He was baptised on 9 October 1796
[2] Lt Colonel John Mainwaring was appointed to 51st Foot as its second lieutenant colonel in the spring of 1809 and served with the regiment at Corunna and at Walcheren. He proceeded to Portugal with the regiment in February 1811 and presumably Frederick travelled with him in the same ship. He became ill in the trenches at the second siege of Badajoz and he returned home to recuperate. He did not return to the peninsula, being appointed commandant of Hilsea barracks. He became a colonel on 4 June 1813 and appointed to command Albany barracks in the Isle of Wight. He became a major general in 1819 and was placed on the Staff in Antigua. He died on 21 February 1842.