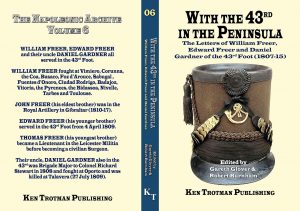 The Letters of William Freer, Edward Freer and Daniel Gardner 43rd Foot (1807-15)
Available from Ken Trotman Publishing
I have been aware of the short booklet produced by Norman Scarfe at University College Leicester in 1953 entitled 'Letters from the Peninsula, The Freer family correspondence 1807-14'. It was not clear however that there was a huge volume of material in the Freer family files at Leicester Archives[1] and that what Norman Scarfe had published was simply an eclectic choice of tasters and that a huge amount of important military information had not been included. I had procured a full copy of the files a few years ago, but it is only recently, when helping my good friend Robert Burnham procure archival material for his books on the Light Division in the peninsula that I began to prepare the entire collection ready for print. The letters are written by a number of Freer family members, but mostly by William and Edward Freer and their uncle Daniel Gardner who all served in the 43rd Foot alongside each other. I must at this stage thank Robert Burnham o for helping me to record all of the Freer letters as he begins his journey into the dark arts of transcribing from original sources, it is hoped that this partnership will bring many more memoirs into publication in the future.
William Freer was born in Coventry, one of a four military sons of Thomas Freer a provincial doctor who became a Surgeon in the Leicester Militia and his wife Martha (nee Gardner). William Freer became an Ensign without purchase in the 43rd Foot on 14 December 1805, he then became a Lieutenant on 5 February 1807 and was made a Captain on 1 December 1813.
He served at Vimiero (where he was wounded), Corunna, the Coa (wounded again), Busaco, Foz d'Arouce, Sabugal (slightly wounded), Fuentes d'Onoro, Ciudad Rodrigo, Badajoz (severely wounded). In May 1812 he went home for sick leave to recuperate but was back in time to serve at Vitoria, the Pyrenees, the Bidassoa, Nivelle (wounded again), Tarbes & Toulouse.
John the eldest brother was in the Royal Artillery[2], his younger brother Edward served in the 43rd (Monmouthshire) Regiment from 4 April 1809 after initially having been an Ensign in the Leicester Militia; and their younger brother Thomas became a Lieutenant in the Leicester Militia and later became a civilian Surgeon. Four other younger children were Martha, Richard, Anne and Daniel, the last two born at Knipton in Leicestershire where the family had moved around early 1801.
The family involved in the 43rd extended further, with Paymaster John Wells (appointed 23 November 1804, serving at Vimiero but resigning in July 1809) and Captain Joseph Wells who were related to William's brother-in-law. The boy's uncle, Daniel Gardner was also in the 43rd, having joined as an Ensign in December 1800 and having become a Captain in February 1804. He went out as Brigade Major to Colonel Richard Stewart in 1808 and fought at Oporto and Talavera, where he was killed.
[1] The Freer collection are numbered 16D52.
[2] Lieutenant in No.7 Company of the 10th Battalion Royal Artillery. The company served at Gibraltar from 1810-17.