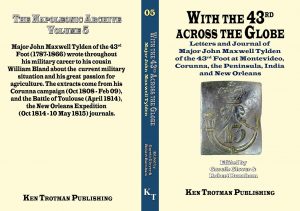 The Letters and Journal of Major John Maxwell Tylden of the 43rd Foot at Montevideo, Corunna, the Peninsula, India and New Orleans 
Available from Ken Trotman Publishing
Please Also see Napoleonic Archive Volume 12 for the MISSING 1813 journal
The letters and journals of this very interesting officer are scattered to the four winds, but I have been able to pull all of this material back together to form one cohesive story. There are however still gaps, as the only letters which I have discovered that John Maxwell Tylden wrote throughout his military career are those to his cousin William Bland[1]. He certainly wrote to his immediate family as well, but these have unfortunately not come to light. His letters deal with all sorts of matters, with much on the current military situation, but it is also clear that he had a great passion for agriculture. John Tylden clearly also kept diaries and although the whereabouts of his Peninsular diaries are not known, we are lucky that important sections of his diaries, those of the Corunna campaign,[2] and the Battle of Toulouse[3] were published in the Light Infantry Chronicle in the 1890's and I was lucky enough to be able to obtain copies of these from The Museum of the Oxfordshire Soldier. Finally, we have a handwritten copy of his original diary of the entire New Orleans Expedition from 27 October 1814 to 10 May 1815, which now resides in of all places, the Manuscript Department of The New York Public Library[4] and who kindly granted me permission to transcribe and publish it.
Lieutenant Colonel Sir John Maxwell Tylden (1787–1866), was born on 25 September 1787. He was the eldest son of Richard Tylden of Milsted, Kent, by his second wife, Jane, daughter of Samuel Auchmuty, Rector of New York and sister of Lieutenant General Sir Samuel Auchmuty.
He was commissioned as an Ensign in the 43rd Foot in the summer of 1804 and was promoted Lieutenant on 23 November by purchase (vice Wells becoming Paymaster) in the same year. In 1807 he served in the expedition to Monte Video and Buenos Aires as Brigade Major to his uncle, Sir Samuel Auchmuty. He became a Captain on 28 September 1809 (vice Patrickson). In 1810 he went to Madras as an aide de camp to Sir Samuel Auchmuty. He accompanied him to Java as his Secretary and was present at the capture of Fort Cornelius on 26 August 1811 and was sent home with despatches. He received a brevet majority on 19 December 1811 and was knighted in 1812, when he acted as proxy for Auchmuty at the installation of Knights of the Bath.
He joined the 1st battalion of the 43rd in the Iberian Peninsula in 1813 and was present at the battles of the Nive, Orthes, and Toulouse. In 1814 he went with his regiment to America and took part in the unsuccessful attack on New Orleans. He was appointed Assistant Adjutant General to General John Lambert and he was praised in General Lambert's despatch of 28 January 1815.
He became a Major in the 52nd Foot 16 July 1818 and became a brevet Lieutenant Colonel on 12 August 1819.
[1] Kent Archives Reference U771/C42.
[2] The Oxfordshire and Buckinghamshire Light Infantry Chronicle 1899 p 119-147
[3] The Oxfordshire and Buckinghamshire Light Infantry Chronicle 1898 p162-171
[4] New York Library Archives MssCol 3050