Napoleonic Archive Volume 7 – The Cavalry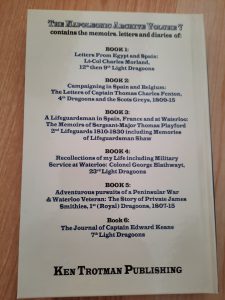 Published by Ken Trotman Publishing Limited
2022
This volume reprints a number of 'out of print' memoirs but also includes Keane of the 7th Light Dragoons, not previously published,.
It includes
Letters from Egypt & Spain by Lt Colonel Charles Morland 12th then 9th Light Dragoons
Campaigning in Spain and Portugal. the Letters of Captain Thomas Fenton 4th Dragoons and Scots Greys 1809-15
A Lifeguardsman in Spain France and Waterloo. The Memoirs of Sergeant Major Thomas Playford 2nd Life Guards.
Recollections of My Life including Military service at Waterloo, Colonel George Blathwayt 23rd Light Dragoons
Adventurous Pursuits of a Peninsular war and waterloo veteran, The Story of Private James Smithies 1st (Royal) Dragoons 1807-15
The Journal of Captain Edward Keane 7th Light Dragoons