The Peninsular letters of Lt. Colonel Henry Packe, 1st Regiment of Foot Guards 1808-15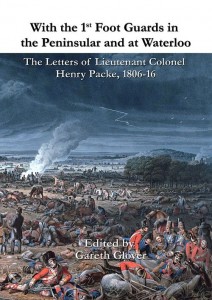 Recently republished in Napoleonic Archive Volume 11
Ever since I published the letters of Lieutenant George Hussey Packe of the 13th Light Dragoons in my Waterloo Archive Series (Volume IV), I have been aware of and have wanted to publish the letters of Lieutenant Colonel Henry Packe of the 1st Foot Guards which are also held by the Leicestershire Archive Service reference DE 3969/24.
There are many sets of letters and journals of officers in the Guards battalions, that it would seem that it was almost obligatory to keep them. And with such a plethora of material on the Guards, one could be forgiven for assuming that there is nothing new in these particular letters, but you would be wrong!
Henry Packe wrote lively and informative letters home, mostly to his mother, with a few others to his siblings, particularly his elder brother Robert, who was unfortunately to die at Waterloo, whilst serving with the Horse Guards.
Henry is actually excellent on the minutiae of ordinary life both as a Guards officer but also as a simple soldier, covering many aspects of military life simply skimmed over, or completely ignored as too mundane by others. But the mundane is a virtual treasure trove for military historians as few bother to record these details. For this reason alone I thoroughly recommend this work to students of Wellington's Army, however, it is also a thoroughly good read.
Henry Packe was the youngest son of Charles James Packe of Prestwold Hall, Sheriff of Leicestershire and Charlotte Pochin of Barkby Hall and as such, with no prospect of inheriting the estate, had to follow the family tradition into the army.
Henry Packe was born on 15th February 1786 and at the tender age of 13 (11th January 1800) he was entered as an ensign without purchase in the 1st Regiment of Foot Guards, later to become known as the Grenadier Guards. He became a Lieutenant & Captain (the Guards having dual rank, he was a lieutenant in the regiment but counted as a captain in the army for seniority purposes) without purchase on 6th July 1804.
Up to this point it is likely that Henry had continued his education whilst on the regimental books and only now did he begin to learn his trade.
Life would have been mundane, if not a little tedious, with only a few parades or guard duties for the numerous members of the Royal family to break the monotony. But outside of regimental life Henry would undoubtedly enjoyed himself immensely at all the fashionable haunts of London. He could almost imagine there wasn't even a war on.
The military career of Henry Packe was now to become a series of nears misses, so to speak, as he often seems to have just missed the big events.
But in 1806, the war finally caught up with the Guards and we find Henry in his first letter describing their embarkation for Sicily. It was to be the start of a series of military operations that Henry would take part in, keeping him from home for much of the following decade.
After a period garrisoning Sicily, during which time Henry visited Malta and climbed Mount Etna, he found himself at sea again. Initially sent to aid Portugal, but refused entry, they sailed away, only to return a little later to participate in the horrors of the retreat to Corunna.
Unhappily Henry Packe then found himself playing a bit part in the useless invasion of Walcheren before returning to Britain.
After a period back in England, Henry Packe found himself back at Corunna again, as he marched to join Wellington's army near Burgos, only to arrive in time to join the horrendous retreat that ended the 1812 campaign so ignominiously.
He was also to miss the 1813 campaign as his battalion suffered terribly from a fever which devastated it, forcing Wellington to leave it behind at Oporto to recuperate.
The terrible retreat had persuaded many officers in his battalion to resign their commissions and this allowed Henry to purchase his much coveted company on 8th April 1813, becoming a Captain & Lieutenant Colonel. This however forced him to sail home to join the junior 2nd Battalion, but did then involve him in the expedition sent to help free Holland and Belgium from French control in aid of the Prince of Orange in 1814. This force was commanded by General Sir Thomas Graham who had been persuaded to return from retirement for one last campaign, something he was to regret for the rest of his life. Henry however then missed the attack on Bergen op Zoom as he proceeded to Bordeaux to rejoin Wellington's army with the 3rd Battalion, only for the war to end.
Sailing home Henry did not take part in the Waterloo campaign but went out to France immediately after with reinforcements to bolster the battered battalions and saw out his time with the Army of Occupation. This brought his military career to an end in 1816.
Henry married Eliza Isham in 1821 and they had 13 children; 9 sons and 4 daughters. He bought Twyford Hall in Norfolk in 1830 and was Lord of the Manor of Twyford until his death in 1859.