The Letters of Captain George Henry Dansey, 88th Foot 1804-18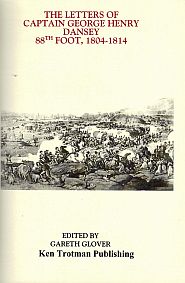 Paperback or Limited Edition Hardback only available from Ken Trotman
Published 2007 ISBN 9781905074600
Available From Ken Trotman Ltd or Amazon.co.uk
This, entails the first publication of the letters to and from Captain George Henry Dansey (known as Henry to the family) which I found mixed with the letters of his brother, 2nd Captain Charles of the Royal Artillery (the subject of another booklet in this series) in a set of papers held in the British Library (Add Ms 41580 folios 59-144). The British Library were kind enough to give permission for me to publish these papers. Dr A Morton, Archivist at Sandhurst very kindly supplied me with the list of cadets expelled (Ref CAYMA 76-508(ii)).
This collection of letters is rather eclectic, covering various aspects of his life but with great gaps between; but I believe they will be of great interest to students of the Napoleonic period on many levels.
The early letters deal with Henry's time at the Royal Military College, Great Marlow and sheds a great deal of light on an intriguing and little known episode at this military school; namely a mutiny! This was not just a refusal to turn out or to do duty; this actually involved a number of these young gentlemen plotting to cause a serious explosion and having overrun the college, to put certain teachers to death! Henry seems to have gained a good deal of knowledge of the plot and helped to prevent them succeeding.
Henry was appointed an Ensign in the 88th Foot (Connaught Rangers) on 22 August 1805 and very quickly (22 July 1806) purchased a lieutenancy in the 1st Battalion. Henry went with the regiment to Cape Province and from there went on the ill fated expedition to South America. Following this he became a captain on 3 August 1809 and served with the regiment in Portugal and Spain, being wounded and mentioned in despatches at the Battle of Busaco. He returned to the Peninsula to fight at Vitoria, Orthes and Tarbes. Following the war, he became a brevet Major on 4 December 1815 and finally achieved his Majority on 25 July 1825. Soon after he went on half pay unattached `at his own request for private affairs' when he retired to France unmarried.
There is also a very interesting aside to the correspondence, namely the expedition against the Joassamee pirates in the Arabian Gulf, where his brother William fought and died.
I hope that readers will find this intriguing little memoir as enjoyable and illuminating as I did.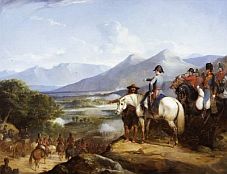 Battle of Vittoria