The Peninsular & Waterloo Letters of the Reverend Samuel Briscall 1808-20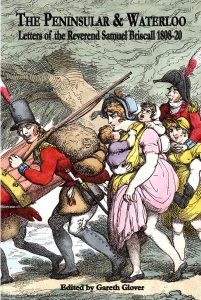 Available from Ken Trotman Ltd 
I was kindly presented a few years ago with a typed folder of papers by Peter Hammersley, which had apparently originally come from my namesake, the historian Michael Glover.[1] He did indeed write an article on Samuel Briscall in History Today in 1968[2], entitled An Excellent Young Man: the Reverend Samuel Briscall 1788-1848, which did include a few snippets from his correspondence. Beyond that, the original letters have unfortunately been lost to us as their present location is unknown. I have since however, discovered a second series of letters written by Samuel Briscall to his sister Mary, which are held at the National Army Museum (NAM 2002-05), although incorrectly identified as by Briscoe. These letters fill in many of the blanks in the original series and together they form a very interesting set of correspondence from one of the very few clerics with the army in the peninsula and one who was often attached to headquarters and saw a good deal of the Duke of Wellington.
Born in Stockport in 1778, he was the only son of James John Briscall, Surgeon, and Alice Crompton (married Stockport 1777). James Briscall was the owner of 'two messuages' in or adjoining to a certain street called the Church Gate and held for a long term or terms of years granted by the rector and also held interests in other properties. His father died on 24 September 1814, having been struck by an 'Affliction' in 1812.
Samuel Briscall went to Rugby School in January 1792 and from there to Brasenose College, Oxford, matriculating on 9 November 1797. He became a B.A. on 3 June 1801 and Hume Exhibitioner on 10 October 1801, Williamson Fellowship 1803 & M.A. in 1804.
He became Chaplain to the Forces in 1808, serving in the Corunna campaign of 1808/9 and returned to England in January 1809 but returned to Lisbon again, sailing on 18 June 1809. General Orders, Talavera, 2 August 1809, 'The Rev. Samuel Briscall is appointed Chaplain to the Forces from 25th May.' He served with field army until late in 1811 when he became ill and was sent back to England to recuperate. During this time, he visited Brasenose twice (26-30 March and 23-24 October 1812). He returned to Lisbon in April 1813 and re-joined the field army at Vera in the Pyrenees on 25 October 1813. General Orders of 19 May 1813 note that he was reappointed to the Staff, attached to H.Q. from 25 February 1813.
He served as Chaplain to the British Embassy in Paris in 1814 during which time he suffered from 'a severe indisposition' (November 1814) which prevented him from attending a meeting of the Seniority of Brasenose at which he was appointed to the Rodborough Lectureship (giving a stipend of £40- later increased to £100). On 14 December 1814 he was given the degree of Bachelor of Divinity and he delivered the Brigman Oration.
He appears to have moved from Paris to Brussels with Lord Fitzroy Somerset, who had been Charge d'Affairs while Wellington was in Vienna. He was senior Chaplain in the British Army (with forage for four horses) and was invited to the Duchess of Richmond's Ball on 15 June 1815. Ten days earlier Brasenose had granted him leave of absence 'so long as he is abroad in the King's service and the interests of the College will admit it'. He resigned his Fellowship at Brasenose in 1816.
He remained with the Army of Occupation until 1819 when he was put on to half-pay and, unable to find a living for him, The Duke of Wellington had him installed as curate at Strathfieldsaye where the rector, the Reverend Mr Bastard, was an absentee.
[1] I am often asked if I am in any way related to the historians Richard and Michael Glover, both of whom wrote on the Napoleonic wars, but to the editor's knowledge there is no family connection.
[2] Volume 18 Issue 8 published on 8 August 1968.