The Waterloo Diary of Captain James Naylor, 1st (Kings) Dragoon Guards 1815-16
Available from Ken Trotman Ltd or Amazon.co.uk
Paperback or Limited Edition Hardback only available from Ken Trotman Ltd

The Journal of Captain Naylor actually goes up to December 1817, however I have chosen to publish only the part up to the regiment's return to the British Isles in 1816, as the remainder contains nothing of significance, being a very personal diary of mundane interactions with the civillian populations of garrison towns.
Captain James Naylor commanded the third troop of the four squadrons that marched for Belgium in 1815, he was wounded at Waterloo, although not seriously, and soon rejoined his regiment in Paris. He continued to serve with the regiment until he retired from the army as a brevet major in 1820 and died in 1854.
The importance of Naylor's diary cannot be underestimated; he completed a short reume of his day each evening without fail, detailing the duties of a cavalry officer on campaign and the regular reviews, inspections, court martials etc which filled his day, but certainly gave him ample time to see the sights of Paris. His comments are clipped and impersonal at times but the immediacy of his comments, purely for his own edification, ensures that he gives an honest view of all he sees, untarnished by the dreadful hindsight or the even more disastrous 'rewrite' often see, where diarists have prepared their material for publication at a later date adding many embellishments to the original story.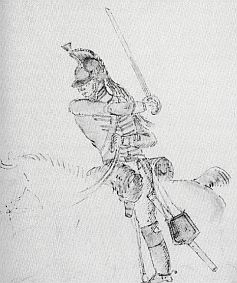 Cut at Sword Arm. Drawing by Naylor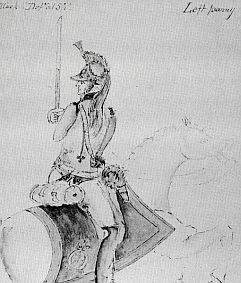 Left Parry. Drawing by Naylor