Voices of Thunder
A Novel of Waterloo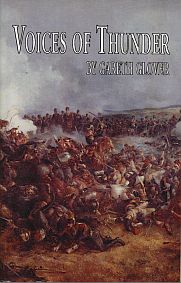 March 1815 and the news that Napoleon has escaped causes thousands of troops to march hurriedly to join wellington's army in Belgium, including 1st Battalion 95th Rifles and G Troop Royal Horse Artillery. Follow their adventures on route to Brussels and their preparations for war.
They would never forget the name of a small Belgian village called Waterloo…..
Published by UPSO in 2003 ISBN 9781843750475
Unfortunately UPSO has  gone out of print and this book is no longer available to purchase. However Gareth is kindly making this rollicking tale of adventure available in full, free of charge to visitors to this site.
Please note however, that all copyright is still reserved on this book and it may not be made available to others in any format without the express permission of the author.
Some Reviews
'Once I opened the cover, I couldn't put it down until I finished it'
Eric Lawson
'It would make a fantastic film for the two hundredth anniversary [It didn't!]'
John Cooper
Download the Entire Book for Free by simply clicking on the link below