Waterloo Letters
The 1815 Letters of Lieutenant John Hibbert, 1st Kings Dragoon Guards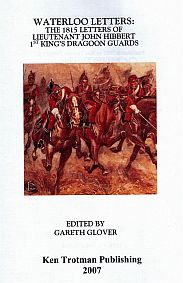 Paperback or Limited Edition Hardback only available from Ken Trotman Ltd

Published by Ken Trotman 2007 ISBN 1905074556
Available From Ken Trotman Ltd or Amazon.co.uk
 John Hibbert, the third son of Robert Hibbert of Birtles Hall, joined the 1st Kings Dragoon Guards as a Cornet, just as the Peninsular War drew to a close, on 13 January 1814. Hibbert was clearly lucky not to be
placed immediately on half pay and with the sudden mobilisation of the regiment for foreign service following Napoleons return to power, he was able to purchase a lieutenancy dated 30 March 1815. Such a purchase would cost around £1000, although the sale of his cornetcy would recover around £735. As such he served in the Waterloo campaign, unfortunately actually missing the battle because of a severe riding accident a few days before (although he did receive a medal). However, the information provided by Hibbert regarding the battle is precise and of great worth. He rejoined the
regiment shortly after the battle and clearly gained a very good understanding of his regiment's actions on that day from his brother officers. His honesty regarding the failures of his regiment, particularly regarding the needless loss of men caused by the failure to provide a
reserve; and the propensity of both sides to wage total war that day, provide a valuable insight. He provides for example, specific information that appears to prove that the French murdered many of their prisoners in cold blood following the battle.
He accompanied the regiment to Paris and writes a great deal on the French attitude to the defeat and clearly believed that the French heartily detested Louis XVIII, a view which is at variance with most other
memorialists at this time. His letters home, written in the immediate aftermath of events are untainted by `hindsight' and are a valuable research tool. The dating of the letters is however to be used with care. Some of the early letters were undated but marked in another hand with their date of receipt in England, any dated by this latter date have been duly annotated to avoid confusion.
Hibbert became a Captain on 7 September 1820 and was placed on half pay 25 October 1821 and finally retired from the army half pay list in 1848 with the rank of Major. He married Jane Alexander 6 August 1833, resided at Chalfont Park and was the High Sherriff of Bucks in 1837. He died 3 January 1886.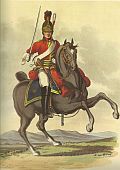 1st King's Dragoon Guard